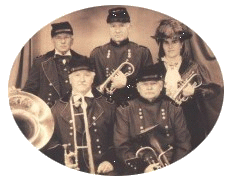 COBURN BRASS consists of seven musicians from central Pennsylvania that love to play the music of the Civil war period. Coburn Brass started in November of 1996 to play for the Aaronsburg Historical Museum Association. Since then we perform year round throughout the east coast.

Gettysburg Brass Band Festival
Boalsburg (site of founding of Decoration Day in 1864)
Boalsburg Heritage Museum
The People's Choice Arts Festival
Civil war encampments and many many more.
We are available for civil war, historical and patriotic events. Just about anywhere there is an audience interested in experiencing the songs, the history and the tales of the music and bands of the civil war. We are rated for audiences of all ages.